Junko :

The reason why I decided to establish the institute is that many people, especially ordinary people, but increasingly political and economic people, started to say that the current economic model won't work and we have to have alternatives. On the other hand, I have seen many down-to-earth examples, like farmer's market and community supported agriculture, downshifters and others. There is warning on one hand, and there are practices on the other. But I don't see any alternative economic model to connect them.
Helena:

Yes. I feel that what I have tried to promote and articulate is actually an alternative economic model. At the fundamental level, it is about decentralization or localization. As I was saying before, having to be more economically literate. All of life is diversity. That means unique human individuals as well. As individuals we are unique, as groups, as cultures, as races, and again, we need to have adaptation to that diversity, rather than homogeneous one standard consumer monoculture image that is affecting people worldwide. Therefore, for human and ecological reasons, we must adapt economic activities to diversity. That means to respect realities of different places and cultures.
Localizing turns out to be fundamentally in the opposite direction to what the governments are currently promoting, which is the globalization. The latter has certain systemic characteristics. First of all, it is about separating producers and consumers and separating investors from what they invest in. That is already very dangerous. The investor over here doesn't even have any idea about how the money is affecting over here. That alone means structurally that you can't have a good ethical practice.
Shortening the distances, so that you see the impact of what you do, both as a producer and as a consumer, and you know what has happened and what you are. Then you can be more ethical. What also happens in the shorter distances, is that businesses become more visible and accountable to society. And what starts to happen is that culture and ecological value can shape business, rather than businesses do now, shaping culture and ecology and shaping government. So fundamentally, localizing would also mean that a business needs to belong to a place, and that you need to be a Japanese business or an American business, or a Chinese, not a multinational.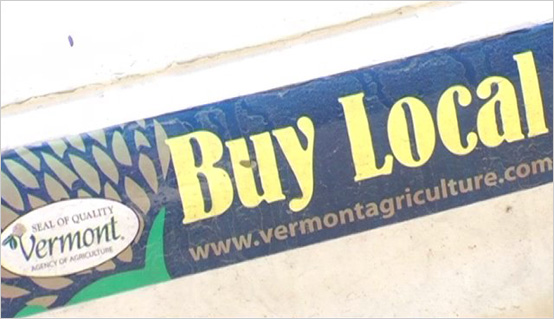 From the documentary "The Economics of Happiness"
© 2011 "The Economics of Happiness"

Junko :

People tend to have resistance and fears, because many people, not only big guys but ordinary people also believe that they have to have expansion of economic activities which can be measured in a monetary term in order to secure their pension or to keep their employment. When you say that localization is the way we have to go, don't you encounter many resistances or fears of people?
Helena:

For one thing, localization for many people sounds like "Oh, we are going to go back to live in some little village, and become a farmer." First of all, most people's experience with a village is a way of life that has been very marginalized for a long time now, especially since the Second World War. The farmers have had terrible struggling life and there has been this psychological as well as material marginalization. In those villages, there are often just old people, and young people are in cities, where there is action and it is more exciting.
So first of all, I try to explain that with localization, it will be possible to have thriving, very vital and alive smaller towns, because the policies that would help us have healthier agriculture, forestry, fishery would mean more people engaged in that. But with very decent pay and respect, and with the joy that can come with that, it immediately changes the whole picture. And I can show that there is a new farmer's movement. They are doing really well and really enjoying it. So one of the most inspiring trends I know of is the local food movement. The farmers who were almost bankrupt and unhappy are now thriving. All of this is happening without any help from the government. But what could happen with just a little bit of help is absolutely wonderful.
When people were asked, "If you could have your same job in a smaller town or in a big city, which would you prefer?" a very large proportion of people said they would rather live in a smaller town.
So I think that there is a way of showing very clearly that localization could enrich our lives. It isn't about less money for you. I think the biggest sort of myth about globalization is that increasing GDP is benefiting us. We are getting poorer. So if people are worried about their pension and their life reward, they should look at this economic literacy and realize that localization is going to be right, far more secure than the current system.
Junko :

How about the country or the government? Governments are afraid of reducing their tax revenue if people go to localization or people downshift.
Helena:

In actual fact, for governments worldwide, we can show very clearly that they are getting poorer, because they are subsidizing big businesses that are not paying back. In fact, if they have a multitude of smaller businesses, they will have better healthcare and more stable tax base. There is no doubt about it.
Localization is the economics of happiness is because it is about moving away from globalizing consumer culture towards a way of life where we have more connection with one another. This is so much more important than many people realize.
Economics of happiness is about rebuilding our connection to one another and to the natural world around us, to the animals, to the plants. This is how we evolved. This is how we lived for almost the entire time we have been on this planet. This is who we are. We are human through connection.
Junko :

It was very good discussing this with you, very thought-provoking. Thank you very much.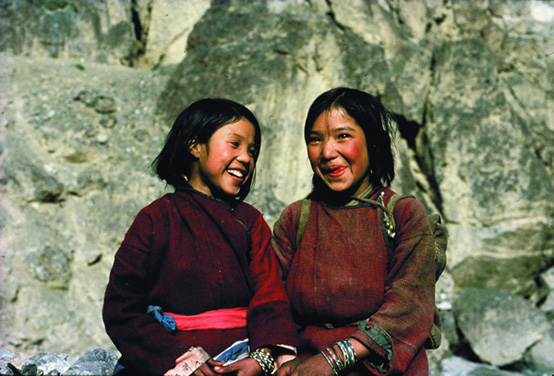 From the documentary "The Economics of Happiness"
© 2011 "The Economics of Happiness"


Helena Norberg-Hodge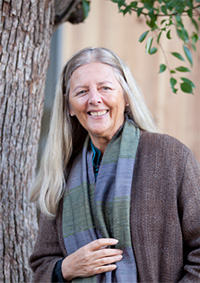 Helena is an internationally recognized pioneer in the worldwide localization movement and a leading analyst of the impact of the global economy on culture and agriculture. She was among the first westerners to visit Ladakh when the region was opened to tourism and "development" in 1975. She was able to quickly master the Ladakhi language, giving her a unique insider perspective as western goods, policies and attitudes impacted the indigenous culture. She founded the Ladakh Project and since that time, she has spent part of every year in Ladakh, working with the Ladakhi people to protect their culture and environment from the effects of rapid modernization. For this work, Helena was awarded the 1986 Right Livelihood Award, also known as the Alternative Nobel Prize. She is the author of Ancient Futures: Learning from Ladakh and co-author of Bringing the Food Economy Home. Her articles have appeared in numerous volumes and periodicals such as The Ecologist, Resurgence, and YES! magazine.
Helena is also on the International Commission on the Future of Food and Agriculture. She is a member of the editorial board of The Ecologist magazine, a co-founder of both the International Forum on Globalisation, and the Global Eco-village Network.