Municipalities Across Japan Establish 'Happiness League'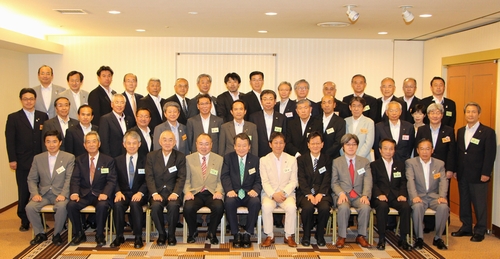 Inaugural meeting of "Happiness League"
Original text is from Japan for Sustainability
The Association of Municipalities for Improving Residents' Sense of Well-Being (unofficial translation), nicknamed the "Happiness League," was established on June 5, 2013, with the goal of developing happy local communities across Japan. The association held its inaugural meeting in Tokyo on the same day to issue a joint declaration on achieving truly resident-centered municipality management to build inclusive and tight-knit local communities.
While the issue of human well-being is drawing attention around the world, mayors of Arakawa City in Tokyo, Tsukuba City in Ibaraki Prefecture, and Kyotango City in Kyoto Prefecture have promoted the idea of establishing a forum for municipalities to study together and learn from each other. Of the 1,742 municipalities across Japan, 52 municipalities of various sizes, from Toyota, population 420,000 in Aichi Prefecture, to Kamikatsu, population 1,900 in Tokushima Prefecture, agreed with the idea, and so the association was founded.
"The combined population of member municipalities is 4.3 million, between three and four percent of Japan's national population," said Arakawa City mayor Taichiro Nishikawa, who was elected chairman of the association. "With the municipalities that have joined together, we hope to expand the Happiness League's initiatives to all of Japan."
Arakawa City launched in 2005 a research project on Gross Arakawa Happiness (GAH), an index proposed for measuring Arakawa residents' sense of well-being. The Happiness League is expected to be instrumental in spreading similar initiatives across Japan.